August 25, 2022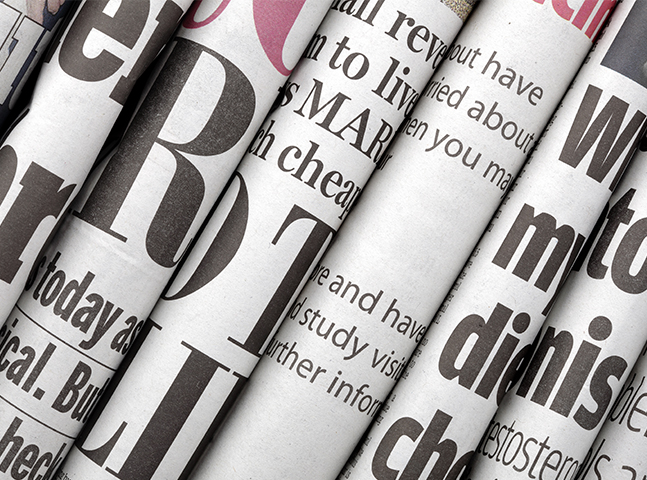 ---
August 25, 2022
Dear Knappa Community:
As summer is nearing an end, we are excited about the start of school. Summer Stuff. The roofing work at the high school is completed. The grounds, maintenance, and custodial teams are finishing up their cleaning, pulling weeds, and painting.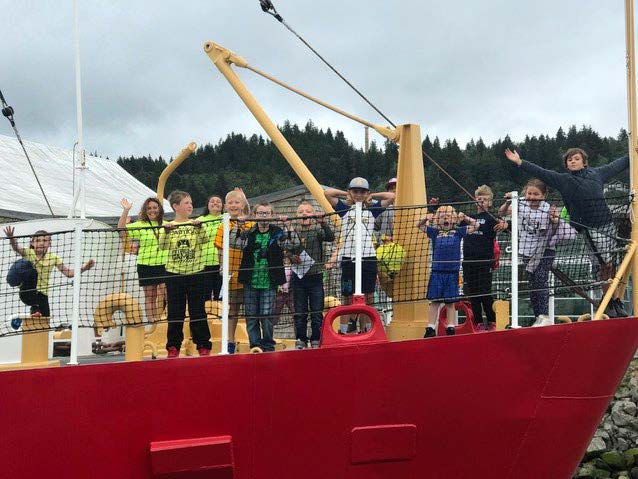 The 40 adventure camp students have visited many educational sites, including Fort Clatsop, the Maritime Museum, the Evergreen Aviation and Space Museum, the Coast Guard Helicopter Airbase, OMSI, and Fort Stevens, to name a few.
To the left is a photo of students with Ms. McMullen and Ms. Buoy on the Columbia Lightship at the Maritime Museum.
Our youngest learners have been with us at Kindercamp the last two weeks, and the music and drama program was a real hit. These students and Mr. Goldman held a final performance in the Knappa High School cafeteria last Friday. They showed off their acting skills as well as providing a musical performance (see ensemble, right).
Also, notice the bright light in the room due to the new windows.
Teachers will be "back to school" in the next two weeks doing professional development and getting prepared for the students to arrive.
Last Friday, potential architects and contractors were on-site learning about our bond project in preparation to submit proposals by September 1.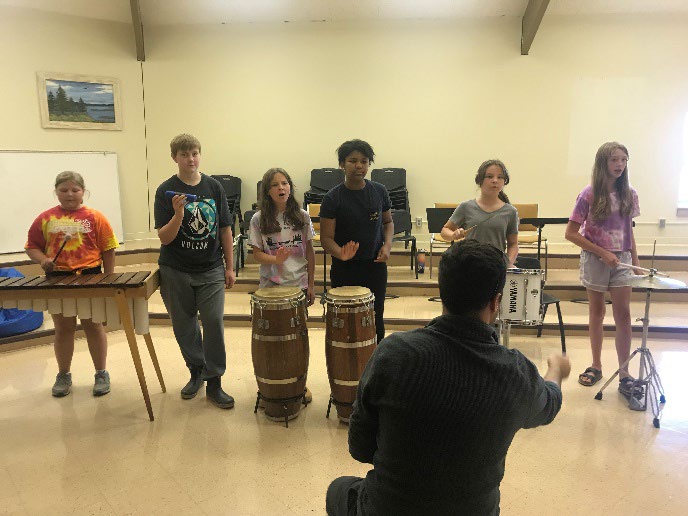 Jobs. Knappa still has a few positions open. If you or somebody you know is interested, please have them visit our employment page on the Knappa School District website. We still need bus drivers (we do the training. There is a $500 signing bonus). We also need program assistants to help in classrooms and with supervision. We are looking for a part time kitchen worker as well.
Approval of Field Work. At their recent meeting, the School Board authorized construction work on the baseball and softball fields to make both better for play next spring and beyond. This includes fencing to keep the elk out, additional bleachers on the softball field, and drainage lines for the baseball field. The District is also requesting quotes to improve the softball dugouts. If you know young people who are new to the community, please encourage them to drop by and register their students. This will help them (and us) be well prepared for the first day of school. We also have a few slots left in the preschool program.
Here are the start dates for students:
September 6: 7th and 9th Grade Orientation
September 7: Grades 1-12 First Day of Instruction
September 12: First day for Kindergarten and Preschool
Start and End Times.
Hilda Lahti Elementary (K-8) will run from 8-2:30 daily this year.
Preschool will run from 8:30-2:30 daily.
Knappa High School will run from 8:50-3:20 daily.
HLE has an after school academic program for students who need to stay late or just need extra help.
Athletics. Fall athletic teams have begun practicing. We are seeing solid turnouts for football and volleyball and a record turnout for cross country. The volleyball team will host Warrenton on August 25 at 6:30 pm and then will travel to Kennedy on August 30. The first home football game will be September 2 at 7pm vs. Santiam High School. The cross country team will attend the Night Meet on August 26 in Wilsonville.
Civility. Last spring, many members of our Knappa community met to discuss civil discourse within our community. This work was memorialized by the School Board passing a Civility Policy last June. This policy and process are designed to help members of our community work together to have productive communication. Highlights include "going to the source" when we have a concern, keeping students first, listening for understanding before forming a judgment, maintaining composure and tone of voice when communicating, and avoiding use of social media to solve complaints. More information, including each group's commitments and expectations are listed on our civility website knappa.k12.or.us/civility.
New Employees. We have a number of new employees we would like to introduce:
4th Grade – Jessi Erhardt. Ms. Erhardt comes to us from the Warrenton School District where she has taught for seven years. Prior to that, she had experience teaching preschool as well as overseas in South Korea and Japan. She has earned a Bachelor's Degree from Portland State University and a Master's Degree from Pacific University.
First Grade & PE - Nancy Williams. Ms. Williams comes to us with two years of teaching experience in Nevada. She will be teaching in first grade to start the year, filling in for Ms. Johnson who will be on leave for a while. She then will transition to teaching physical education. Her undergraduate degree is from Brigham Young University and she is currently pursuing a Master's Degree from Western Governor's University. (pending Board approval)
Music Education - Jackson Hughston. Mr. Hughston comes to us from Montana where he just completed his music education degree at Montana State University. He is an accomplished musician, specializing in the French Horn. This summer, he has been leading Outward Bound excursions with students in Utah. His student teaching experience included high school band and percussion in Ronan, MT.
High School Mathematics - Ashley Arnold. Some of you might already know Ms. Arnold; she worked at Hilda Lahti Elementary as a program assistant last year. This year, she will serve as a mathematics teacher at Knappa High School. She is completing her teacher training at Western Governor's University this year.
High School English – Lacey Hoyer. Lacey has been serving as our librarian, and now will shift to high school English. She has a Bachelor's Degree in Journalism and Communications from University of Oregon and is pursuing a Master's Degree from University of Phoenix.
Special Education Director – Brittany Norton. Ms. Norton will continue to teach special education for our 4th and 5th grade students, but will also serve part time as our new Special Education Director.
Special Education Teacher – Richard Simonsen. Mr. Simonsen comes to us with 20 years of experience, having most recently taught special education in the Vancouver School District. He will serve students in grades K-3. His Bachelor's Degree is from the University of Nevada at Las Vegas and his Master's Degree is from University of Colorado at Colorado Springs.
High School Physical Education/Health – Jenny Smith. Ms. Smith has come "home" to Knappa having taught high school PE and health in Warrenton since 2005. She earned her undergraduate degree in Health and PE and a Master's of Arts in Teaching from Western Oregon University.
Fifth Grade – Britney Felman. Ms. Felman is coming to us from the Warrenton-Hammond School District. She has experience there as well as in Idaho. Her Bachelor's Degree is from BYU-Idaho.
Hilda Lahti Counselor - Sofia Ward. Ms. Ward grew up in Astoria and just completed her degree in Applied Behavioral Science from University of Arizona. She is completing her school counselor training program this year.
Program Assistants - Helen Cannon, Hannah Mather, Crystal Shanks, & Jenine Rubus will be joining our PA team.
Bus Driver – Loretta Riggs. Ms. Riggs will join our transportation team later in the fall when she has completed her training.
As you see/meet each of the people listed above, please provide a warm Knappa welcome. We have a few more positions to hire and we will introduce those individuals once named to positions.
We look forward to an enthusiastic year of learning and fun.
Wishing you all the best,
Bill Fritz, Ph.D.
Superintendent
Knappa School District #4