July 27, 2023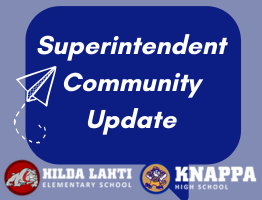 ---
Playground Items and Lockers Up for Public Bid
The Knappa School Board has declared a number of items from the existing playground and school as "surplus."
They are now available for public bid.
If you are interested in any of the following items, please send an email to surplus@knappak12.org.
In your email, please include your name, number, and email. Please also designate which of the below listed item(s) you are interested in (by item number), and what you are willing to pay for the item. Items will be awarded to the highest bidder. Suggested minimum bids for playground items is $100. Swings are sold by the swing (the uprights are not for sale). Suggested minimum bid of $5/swing. Locker banks have a minimum suggested bid of $10. These are suggestions and there is not a required minimum. Remember, however, that proceeds will go into a fund to offset the cost of the new playground equipment.
Bids will close at 3pm on August 4, 2023. Winners will be informed that afternoon.
Winning bidders will be required to pick up and transport the items they win on their own from the Knappa School District parking lot between August 7, 2023 and August 11, 2023. Pick-up and payment will be from 8:30 am to 3:00 pm. Payment via cash or check will be required at the time of pickup. The pick-up times/dates are subject to change, but the bid deadline will remain constant.

If you are bidding on swings or lockers, please indicate how many individual swings you are requesting and please indicate the dollar amount you wish to pay per swing. If you are ordering banks of lockers, please indicate how many banks of lockers (and the preferred bank width: 3, 4, 5, or 6), and how much you wish to pay per bank.

Items will be disposed of AS IS. Knappa School District provides no warranty as to the condition of these items and does not guarantee the safety of any items. Knappa School District assumes no liability for these items once received by the bidder. It is up to the bidder/receiver to verify their safety and proper installation once they are received.

Additionally, there will be pea gravel available in the main parking lot. You shovel and you haul. There will be no charge for the pea gravel. It is first come first serve, tentatively scheduled August 7, 2023 (subject to change).

If you have questions, please call 503-458-5993 x301

Happy Bidding.
The following items are for bid: