August 2, 2023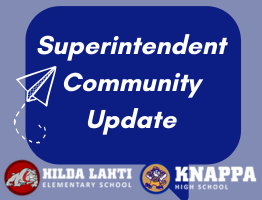 ---
August 2, 2023

Dear Knappa Community:
We may be a month away from the start of school, but a lot of things are already
happening in preparation for the upcoming school year!
Academics. Our new K-8 mathematics materials have arrived. The iReady materials are highly engaging and include technology and assessment components to help with instructional delivery. The teachers are being trained and the materials will be in the hands of students this fall.
Knappa middle and high school students will have access to our new Alternative Education program that will provide increased flexibility for instructional delivery when combined with additional counseling support and career training.

Knappa Virtual Academy (KVA) will be shifting to a new online platform entitled K-12 Stride, and away from Florida Virtual Academy this fall. This shift is based on feedback from students, parents, and our online teacher.
Facilities. When students return from summer break, they will be many changes
students at Hilda Lahti will notice, and some that have occurred they probably
won't notice (but will benefit them):
There will be a new ADA compliant restroom along the main hallway

The preschool will be brand new, including its own restroom.

The "old" portables will be removed (this was completed last week)

The playground area will be on the west end of the school

A new preschool playground will also be on the west end of the school

New heating and ventilation controls / motors will be installed and




operational.

The gutters are being replaced on the play shed.

The classroom sinks are being repaired.
At Knappa High School the following has occurred (or is underway):
Replacement of heating and ventilation controls/motors

Replacement of the roof over the main hallway and home ec wings.

The new baseball shed will be installed.

Return of the music program to the band room
Design work is completed for the new middle school, the improved water pipes, fire sprinkler systems, and gym. Design is underway for the high school seismic updates (grant funded). All of this work will take place during 2024.
We are proud that more than 65% of the Phase 1 bond work is being performed by local contractors, including Big River, RCS Structures, Sunset Lake Construction, and Rosendin Electric (local employees).
Maintenance. All of the classrooms have been thoroughly cleaned. The floors and gyms have been waxed. Some touch up painting is complete. Landscaping has been spruced up. A huge thank you to Bob Brockey, Stan Sporseen, Kutter Ball, Jaxon Dietrichs, Mike Gribbin, Sheri Jacob, and Ty Cope for their hard work getting the schools ready.
New Bus. Knappa School District took delivery on our newest school bus last week. It is a Blue Bird Vision propane fueled bus with seat belts. This is the fourth and final bus the district has purchased as part of a Department of Environmental Quality (DEQ) grant, which has brought the District approximately $170,000. This new bus is environmentally friendly and the price of propane fuel is significantly lower than the price of diesel.
Upcoming Dates to Remember
August 9 - 1pm-4pm

Sports physicals at Knappa High School. $25

August 14

High School Athletic Turnout

August 14-18

Kindercamp

August 15-16

Freshman Boot Camp

August 28

Orientation Day

August 29

First Day of School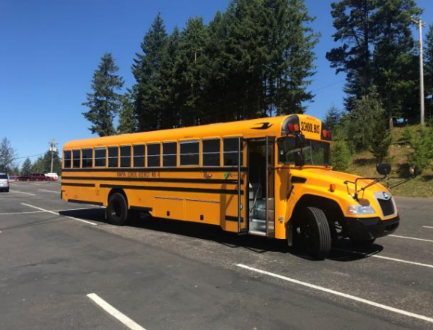 Do you want playground equipment or lockers? The District is currently holding a surplus auction. Please see the attached auction information for details.
Playground Closure. The current HLE playground will close for both school and public use on August 21st for construction work to begin. As of that date, please refrain from accessing the playground, as it will be dangerous to be in that part of the campus.
We can't wait to have the students back. We look forward to helping them continue on their journey so that they can rise to the opportunities and challenges of the world.
Sincerely,
Bill Fritz, Ph.D.
Superintendent
Knappa School District #4